The PACIFIC NORTHWEST includes the following regions: California,  Oregon,  Washington,  West Canada,  Gulf of Alaska and the Bering SeaAccording to the market analysis by Business Development Manager Brian Jacob, the Pacific Northwest fishing fleet counts about 400 large scale vessels (60–140 metres) and approximately 4,500 smaller vessels (up to 60 metres). "The larger vessels, with an estimated number of 800 to 1,000 cranes, are particularly attractive for PALFINGER MARINE, considering that most of these boats were built in the 1970's and might require equipment upgrades or simply be replaced", says Brian.
CHOSEN FOR AMERICA'S FINEST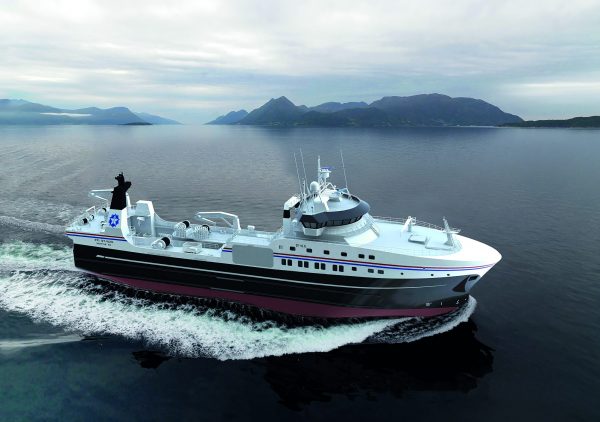 After a year in charge of the company's expansion in the Pacific Northwest fisheries, Brian has reeled in significant crane contracts. The deliveries are destined for both fishing vessels and an Alaskan fishing dock. "The one I am most proud of is the contract for delivery of three marine cranes to America's Finest. This was my first big US catch back in June 2016. America's Finest is the newest, most advanced factory freezer trawler currently under construction in the United States. Having these three cranes aboard, as well as one of our rescue boats with corresponding davit, not only proves that PALFINGER MARINE has been recognised for its high-quality, reliable and safe products. It also opens a lot of gates for the future of PALFINGER MARINE in the Pacific Northwest fishing fleet", says Brian, determined to ensure that PALFINGER MARINE serves the fishing industry with the best technical support, the fastest response time and the best products.
HIGH QUALITY, LOW COMPLEXITY
PALFINGER MARINE's core products for the Pacific Northwest fishing market are knuckle boom and stiff boom cranes, with their high quality and reduced complexity as main selling arguments. These qualities fit the need of the fishing industry very well, as the fishing cranes must endure a heavier use than normal – also being utilised for pushing and pulling various loads.
"IT'S ALL ABOUT REPUTATION"
"I often experience that customers know we deliver excellent quality, but assume that our products are very expensive. This is not the case. Compared to our competitors  in the Pacific Northwest, we produce significantly larger numbers of cranes every year. This allows us to offer high quality technical products at highly competitive prices", Brian affirms.  Providing excellent customer service is top priority – and it pays off.
THE MORE PROBLEMS YOU MANAGE TO UNBURDEN FROM YOUR CLIENTS, THE MORE LIKELY THEY ARE TO USE YOUR SERVICES AGAIN.

Brian Jacob - Sales Manager Americas
Anybody in the Pacific Northwest fishing business will tell you: it is not about who you think you are, it is all about your reputation. Fishermen are directly influenced by their network's experience. Even though the Pacific Northwest fisheries includes thousands of different participants, everybody  is connected somehow – united by their passion for fishing. This brotherhood is extremely important for them", Brian explains.
THE MOST IMPORTANT CATCHES IN THIS REGION:
Pollock and salmon are the two main species fished in the Pacific Northwest, mainly in Alaska (Bering Sea and Bristol Bay), followed by flatfish, mackerel, Pacific cod, groundfish (halibut, sablefish) and crab. Altogether this represents nearly 3 billion pounds of seafood per year (1.5 million tons) worth $ 4.3 billion in wholesale value, sold all over the world, principally in the US and in Japan.