Creative projects can come in all shapes and sizes; just ask Sjoerd Jochems, former Re-hooking Coordinator at PALFINGER MARINE. Reawakening his childhood passion for the plastic building blocks, he set his sights on designing a small-scale LEGO model of PALFINGER's esteemed CTL 38 – one of the most widely sold tender lifeboats in the world.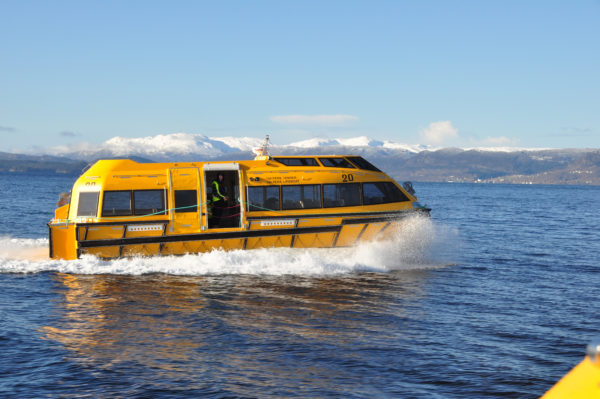 SMALL BRICKS, BIG PLANS
Back in 2017, while visiting a maritime museum in Germany, Cruise Sales Director Alex Letzner was inspired by a huge LEGO ship that he saw on display. Knowing that Jochems was a fanatic LEGO builder, he shared the concept with him, who immediately jumped onboard. "Here at PALFINGER," Letzner explains, "we're always excited to explore creative ideas. The CTL 38 is known for its comfort, low running costs and maneuverability, but its distinct shape and enclosed design made it the perfect fit for this project. We wanted to prepare some LEGO kits that could be used as a promotional giveaway for trade shows and sales events."
FULL STEAM AHEAD!
Having spent five years at PALFINGER in the Netherlands, gaining extensive experience with lifeboats and cruise projects, Jochems was well equipped to bring his idea to life. With access to the blueprints, inputs from his colleagues and the support of PALFINGER's marketing team in Salzburg, he embarked on the year-long project from designing the concept model to delivering the completed sets. But it wasn't all smooth sailing! The 50 construction kits required 23,000 pieces of LEGO, so finding the right parts and colours was quite a challenge!
FREE YOUR INNER ENGINEER
Once the bricks had arrived, Jochems repurposed his dining table and enlisted the help of his family to organise the parts for each box set. A few weeks later, after many late-night sessions, all 50 kits had been prepared. The final step was to create an instruction manual. Using a LEGO design software called 'Studio', he spent some weeks during the summer detailing every stage of the lifeboat's construction. The whole project was completed just in time for the 2018 SMM trade fair in Hamburg, Germany.
MISSION COMPLETE!
Jochems' work was well received and the miniature CTL 38 models were extremely popular at SMM. He even took the kits to a LEGO event in Utrecht. While the project was not endorsed by LEGO themselves, the community was highly enthused by it and offered a great deal of positive feedback. "It was a rewarding experience and I could imagine working on bigger models in the future" says Jochems. "I'm glad that people are enjoying it and actively helping to build the PALFINGER brand; one brick at a time!"