PALFINGER MARINE is fully rigged for the exciting ride. "It all started in 2001", Rupert Reischl says, smiling as he reminisces about PALFINGER MARINE's entry into the offshore wind industry. As one of the founding fathers of the company's wind crane business, the current Global Sales Manager was there for the initial steps – almost ten years after PALFINGER MARINE entered the marine business. When developing the first wind crane prototypes, Rupert and his colleagues profited from their extensive know-how in the maritime field. Marine and nacelle cranes – which are placed on top of a windmill in the turbine housing – are quite similar in their design. Their main difference lies in the frequency of use. "We approached several wind turbine manufacturers and promoted our cranes. In 2003 we were asked to build the first nacelle crane prototypes for the turbine manufacturers Senvion, former REpower Systems, and Adwen, former Areva. The prototypes were designed for the alpha ventus project, Germany's first offshore wind farm. In addition to the 12 nacelle cranes, we also designed and delivered 12 platform cranes for alpha ventus. In its role as pilot wind farm, alpha ventus operates two types of wind turbines with two different foundation designs – all equipped with PALFINGER MARINE cranes. Being part of such a prominent project was big honour for us", Rupert proudly states.
EXCELLENT TRACK RECORD
Offshore wind started off as an industry in 1991, when the world's first offshore wind farm was commissioned off the coast of Vindeby, Denmark. Europe now has a total installed capacity of 12.63 GW across a total of 3,589 wind turbines, located in 81 offshore wind farms around ten European countries. Serving about 9 million households with renewable energy, many of the farms are equipped by PALFINGER MARINE.
WE HAVE AN EXCELLENT TRACK RECORD, WITH A TOTAL OF 2,200 PLATFORM, NACELLE AND SUBSTATION CRANES DELIVERED TO THE INDUSTRY.
"And we are staying on track: recently we won the tenders for Borkum Riffgrund II, Rentel, Merkur, Race Bank, Rampion and Gode Wind I & II, to name just a few projects", Rupert tells us. Driven by the European Union's push away from fossil fuels toward renewables, along with falling costs, offshore wind is undergoing a boom. By 2020, offshore wind is projected to grow to a total installed capacity of 24.6 GW in Europe alone. When also taking into account the global expansion of the offshore wind business, it is no big surprise that this market segment is highly attractive for PALFINGER MARINE.
FROM CRANE TO COMPLETE SUPPLIER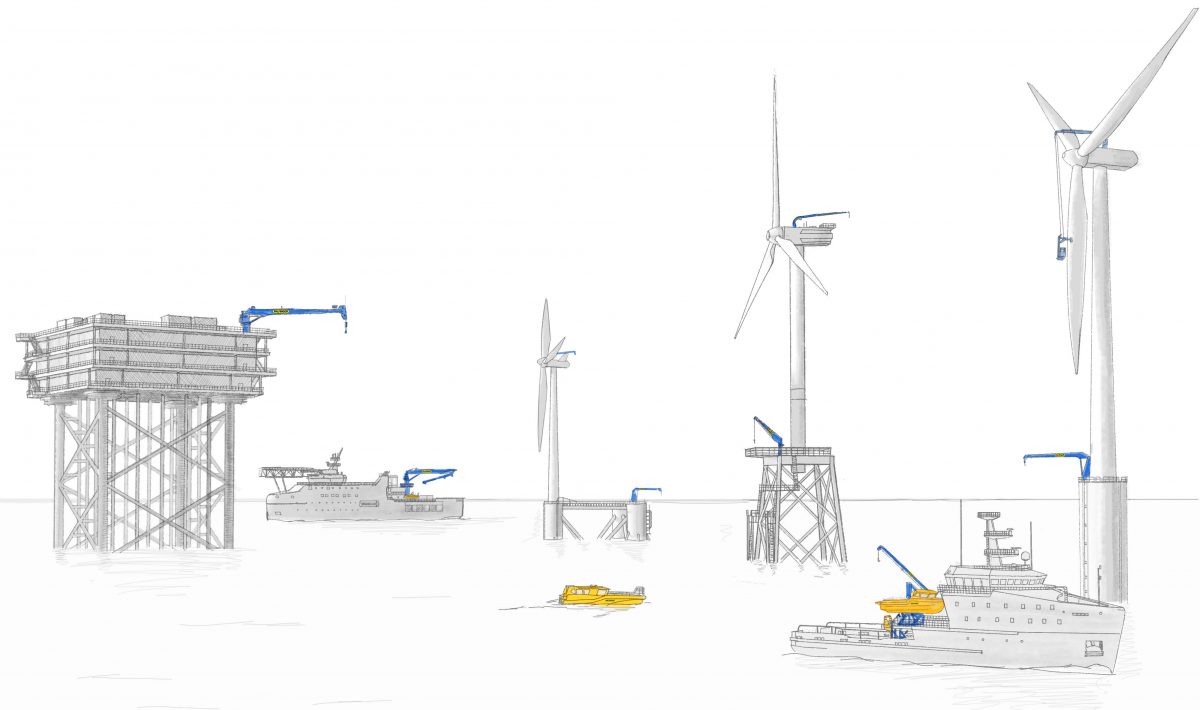 "Becoming a complete supplier also for the wind industry allows us to serve our customers in an even better way. Having a single supplier of deck equipment and services for windmills and service operation vessels, means reduced sourcing complexity (one-stop-shop) for our customers and saves recourses and costs along the entire supply chain", says Halldor Rongve, Vice President Product Division Cranes. Asked about the future, his view is "that the need to decrease the levelized cost of energy will lead to an increased focus on the lifetime cost of the assets in operation. In this respect, we are well positioned with our product portfolio and the substantially enlarged service footprint."
Through acquisitions in the past years, PALFINGER MARINE's product range for the wind segment has been extended by heavy lift offshore cranes, lifesaving equipment, winches and handling equipment like for example container and pallet handling systems and onboard slipways. A strong after sales service and training focus rounds off the portfolio.
As offshore wind power evolves, so does the equipment from PALFINGER MARINE. The company is constantly striving for product innovations. Last year alone we launched both PALFINGER Blade Access (PBA), an innovative solution for safe inspection and effective repair of wind turbine blades developed in cooperation with PP Techniq, as well as our 3D compensated cranes. The 3D compensation unit increases the operability of wind farm service operation vessels (SOVs), hence enabling smaller and more cost-effective vessels to be used in harsher weather conditions.
A HUGE TASK
Compared to PALFINGER MARINE's other market segments, the sheer scale of the offshore wind projects means a far more complex and comprehensive sales process – involving almost every department. "The construction of wind farms may cost 1.5–2.5 billion euros, and can include some 50+ cranes. Preparing tenders for projects of this magnitude is a huge task. In addition to a technical and commercial offer, we must submit a service concept, technical drawings, HSEQ reports, as well as a range of legal documents. Usually these tender processes consist of several rounds, and the average duration from tender until order is about 1–1.5 years. It is definitely no understatement to say that for everyone involved it is highly rewarding when we succeed after such a lengthy and comprehensive job effort", Rupert smiles.
WORTH IT IN THE LONG RUN
While marine cranes are normally in use on a regular basis, nacelle cranes in wind turbines are only used once a year for the annual maintenance work, or in case a spare part needs to be replaced. But why purchase a nacelle crane if you are only going to use it once a year? "Compared with a rope winch or chain tackle, cranes are way more flexible in terms of their operating area and manoeuvrability. Furthermore, our cranes provide man-riding capabilities for inspections outside the wind turbine", Sales Engineer Gerhard Köppl explains. "Considering that the entire lifecycle of a wind farm is at least 25 years, nacelle cranes are worthwhile investments as they save time and cost and minimise HSE risks. Let's say a spare part is needed up in the nacelle. The lifting process is fast and easy with a crane. Otherwise a highly expensive jack-up vessel is required and operators cannot react as quickly. These vessels are also in high demand and therefore limited in their availability. In addition, you must consider that turning off a wind turbine for one day represents a substantial economic loss. Time is money and every day counts", Gerhard elaborates.