As wind turbines get bigger and bigger, the rotor blades grow in proportion and have to deal with increasing circumferential speeds – up to 350 km/h. This results in a severe wear and tear on the outer third of the blades. "Lack of preventive maintenance can lead to production loss and is potentially costly, but the conventional maintenance methods are complex, time consuming and very weather dependent. Our PBA is a fast, weather-proof solution that makes blade maintenance far more efficient for our customers ", says Johann Gnasmüller, Head of R&D PD Cranes, PALFINGER MARINE.
BLADE-GUIDED BASKET DESIGN
The PBA concept combines the PALFINGER MARINE nacelle crane PK 40002 M with a workman basket especially developed in close cooperation with PP Techniq as a partner. The basket has space for two technicians and their tools. With the nacelle crane, the basket is efficiently lifted into operation and attached to the blade. It can be easily stored on-site at the ground base.
THE BIGGEST CHALLENGE IS TO FIT THE CRANE  INTO THE  NACELLE. THE COMPACTNESS OF OUR FOLDABLE KNUCKLE BOOM CRANES HELPS A LOT.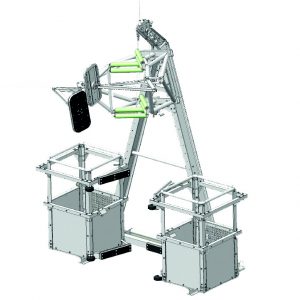 The DNV GL certified PBA solution offers a considerable improvement in terms of safety during maintenance work on rotor blades high above the ground, and the workman basket provides a safe and stable working zone for the service engineers. Due to the blade-guided design, which has been successfully patented, the PBA basket follows the contours of the blade and remains at the same distance to the blade at all times. The service engineers in the basket are conveyed up and down the blade in a stable and predictable manner, while having direct access to electricity and enough space to use their maintenance tools effectively.
FIRST ORDER FINALISED
Transport and setup can be handled faster, and the normally time-intensive handling of equipment is minimised. All of these improvements allow the service teams more effective working hours on the blade – even in bad weather. The first order for the delivery of a comprehensive PBA solution package to Senvion GmbH has already been finalised. Senvion will use the PALFINGER BLADE ACCESS solutions in the Thornton Bank I, II and III wind farms in the southern North Sea in Belgium.