Almost every action movie features its heroes and/or villains scaling up or down the front of a skyscraper or mountain attached to some kind of rope. Sometimes they even audaciously disembark a helicopter hovering at dizzy heights. As is the case more often than not, these exciting action elements are inspired by real life. However, the brave individuals who actually earn their living attached to a rope remain unsung heroes. What you might not yet be aware of is that we have quite a few of these unsung heroes at PALFINGER in our Industrial Services division. 
What Is Rope Access?
Let's take a quick look at what this division actually does. Rope access is a term that describes a means of working in elevated locations where conventional access methods such as scaffolding, cranes, and support systems are too costly, inflexible, or labor-intensive. This allows PALFINGER technicians to undertake inspection, installation, and maintenance scopes to offshore structures, floating production storage and offloading units (FPSOs), antennas, and high-rise buildings. Sounds exciting, doesn't it?
To gain more insight into the day-to-day business, we sat down with Nicholas Hubbard, Regional Director at our UAE-based Industrial Services division, for a little chat. Nick, a former rope access technician who has climbed the ladder (or better: rope) for the last 15 years, has been living in Dubai since 2008. He joined PALFINGER's marine business three years ago and is now in charge of the divisions Marine Lifesaving Appliances and Industrial Services. So, you see, he certainly knows what he's talking about.
WE CURRENTLY HAVE APPROXIMATELY 250 ROPE ACCESS TECHNICIANS IN THE AMEI REGION. 
"As a full member of the International Rope Access Trade Association (IRATA), all our technicians have one of the three defined levels of qualification: Entry, Intermediate, or Supervisor. It takes a minimum of 1,000 logged hours to progress from one level to the next. For every job we send out a team of at least three technicians. Entry and intermediate level technicians are always accompanied by at least one level three supervisor," Nick explains.
The main customers of the Industrial Services division are the civil and construction sectors, as well as the oil and gas industry. "We are capable of dispatching technicians all around the globe," Nick adds. "While we currently primarily service the Middle East, we also have undertaken jobs in Europe and supported our sister office in America. However, the current COVID restrictions have affected our business too. It is currently more difficult to mobilize teams overseas and offshore, but we have, of course, managed to find viable solutions that allow us to honor all our commitments."
Project of a Lifetime


The ongoing pandemic therefore makes local contracts even more important. The Dubai Eye, as it is also referred to, is yet another record-breaking construction project in Dubai. Located on Bluewaters Island, the Ferris wheel will be the highest of its kind with a staggering 210 meters. In total, it will stand more than 250 meters tall, not only offering spectacular views of the skyline and famous landmarks, but also serving as an entertainment zone, due to being equipped with a large LED screen on the wheel itself. PALFINGER dispatched a total of 40 rope access technicians on behalf of Philips/Signify to install LED light systems and electrical components in the spokes, rim, and capsules in two 12-hour shifts. The numbers and dimensions involved are truly staggering.
The Ain Dubai features:
96 spokes (48 face-spokes, 48 diagonal-spokes), each of which weighs 5 tons and is longer than a professional football pitch.
The rim itself weighs as much as 16 Airbus A380s and
15 London buses could fit into each of the Ferris wheel's legs.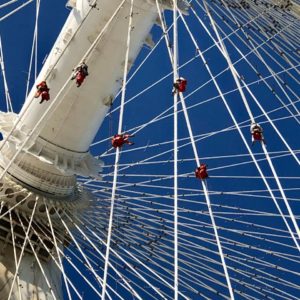 Our rope access technicians installed linear profile LED strings and leader cables, as well as LED fixtures, brackets, and fiber optic cables on all 96 spokes. They also installed a total of 1,152 LED luminaires on the rim, fitted inside approximately 1,350 meters of customized containment brackets. Utilizing a spindle crane, the teams hauled 48 electrical cabinets weighing 537 kilograms each into pre-installed mountain brackets before laying cables accordingly. The unsung heroes then went on to install 9,216 LED nodes and 192 leader cables in the capsules. All in all, the PALFINGER rope access team logged 50,400 working hours – all, of course, incident free.
Challenge Accomplished
If the aforementioned numbers and dimensions have failed to make your jaw drop in awe, reading about the additional challenges posed by the Ain Dubai contract certainly will. Our technicians were under immense time pressure due to the ongoing rotation of the wheel during the construction and testing phases. The pressure wasn't eased by the fact that other subcontractors had to finish their work before our specialist could start theirs. As if the rigging and derigging of ropes between spokes at a horizontal angle of 22 degrees isn't difficult enough, the rope access teams had to do so in the high winds so typical of Dubai. Nevertheless, a total 2,400 kilometers of cable wires have been laid inside the spoke cables – the equivalent of a trip from Dubai to Cairo. "All these challenges were successfully mastered, and the customer was highly satisfied with our work. As a token of appreciation, we were even handed a certificate of recognition," Nick points out.
The Future Looks Bright
So, what's next for the PALFINGER rope access heroes? Nick reveals that the teams are actually fully booked until April. 70 technicians are currently working on a post-construction deep clean of the iconic Museum of the Future in Dubai. The scope of that particular project also included installing the museum's entire landscaping via rope access. Among the exciting upcoming contracts is the maintenance of a massive cooling tower in Saudi Arabia. The structure, 52 meters high with a 274-meter circumference, requires concrete repairs where delamination has set in. The cooling tower contract will keep 25 of our technicians busy for an entire month.
"Every day is different," Nick smiles. "We are very fortunate that our position within PALFINGER's structure allows us to learn from our colleagues every day.
ONE DAY YOUR INVOLVED IN SEA TRIAL OF A BOAT, THE NEXT YOU COULD BE ON A PROJECT SITE AT THE TOP OF A SKYCRAPER.
Sounds like an exciting life.  We'll be sure to check back in on it further down the line. Until then, hang in there!