On a chilly December evening in 2019, a 20,000-ton giant left its nest to finally connect with the one element it truly belongs to: the waters of the wide-open seas. Crystal Endeavor, the newest expedition ship of the Crystal fleet, rolled out of MV Werften in Stralsund, Germany, after her keel laying in August 2018. PALFINGER has pursued and even been part of the project since the very first screw was seated.
"Crystal Endeavor was one of the most exciting projects to date. For the first time ever, we won a contract for a combined package encompassing both lifesaving appliances and lifting and handling solutions."

Gunther Fleck, PALFINGERs VP Sales & Service Marine
Pure luxury at sea
There is no doubt that Crystal Endeavor's passengers will go on an adventure of their lifetime. From six-star service, Michelin-style dining, all-suite accommodations to the yacht's own spa and salon, casino, solarium, and boutiques: Crystal Endeavor leaves no wish unfulfilled. Multiple expedition activities including helicopter flights, tours on Zodiacs, ocean kayaks, and a submarine make childhood dreams come true.
The luxurious superyacht takes expeditioners to the most exquisite places around the globe. These include the Arctic, Antarctica, the Americas, Europe, Pacific and Atlantic islands, and the Russian Far East.
Expedition cruising on a whole new level
Crystal Endeavor is the world's first purpose-built Polar-Code-compliant superyacht. Hence, polar regions during summer and autumn in medium ice conditions pose no obstacles to her. The IMO Polar Code came into effect in 2017. Its regulations affect such areas as the vessels' design, construction, and equipment as well as operational issues.
The challenging part for PALFINGER was to provide solutions combining elements that are Polar-Code-compliant and at the same time meet the yacht's luxurious standards. Nonetheless, our cruise experts mastered this challenge with flying colors. They successfully equipped Crystal Endeavor with an extensive package of customized lifesaving appliances.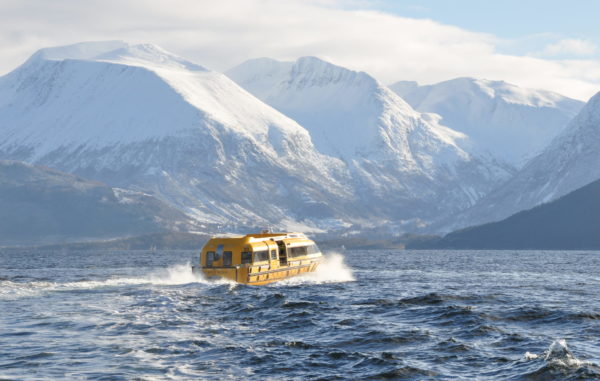 In accordance with the yacht's elegant design and first-class amenities, the PALFINGER tender boats themselves have been fitted with high-class elements. Teak flooring, toilet cabins, air conditioning and heating, a service bar, USB-charging ports and more make short trips to shore destinations as comfortable as possible. In addition to the two tender boats, the package includes two lifeboats, two fast rescue boats, and six accompanying davits.
One package, many solutions
Equipping Crystal Endeavor with lifesaving appliances was not all, though. Three PALFINGER cranes complete the scope of delivery.
Two foldable knuckle boom cranes are positioned on each side of the ship. Launching and recovering the ship's inflatable excursion boats is their daily business. Twelve meters outreach enable them to lift any of the nine boats, which are positioned on various decks. For handling Crystal Endeavor's own underwater ROV (remotely operated vehicle), PALFINGER has delivered an electric overhead travelling crane.
The Crystal project highlighted PALFINGER's expertise as one of the leading suppliers in the cruise industry. Cranes, lifesaving appliances, handling solutions, and fenders are just part of our extensive portfolio. Check out the video below to learn more about the full product range:
Featured image: © Blinkfeuer