The worldwide cruise industry generated approximately 37.8 billion Dollars in revenues in 2017, making it the fastest-growing field in the leisure travel market with constantly rising passenger numbers. 2017 was yet another record year with 25.2 million cruise passengers worldwide. In total, 365 cruise ships were crossing the seas.
Cruise Sales Manager Alex Letzner is bubbling with enthusiasm due to the latest industry reports: "The outlook for the future is promising. By 2027, the yearly passenger numbers are expected to be 38.1 million and there will be 434 cruise ships in operation. The cruise ship order books are full. This represents a huge market potential for us, considering all these new ships need lifesaving and deck equipment", Alex smiles.
How many lifeboats must a cruise ship carry?
"I can tell you SOLAS (Safety of Life at Sea) contains extensive rules about all aspects of lifesaving equipment (LSE), including the location, as well as the number and size of lifeboats. Generally speaking, modern passenger ships must carry enough lifeboats on each side of the ship to accommodate no less than 50 percent of the total number of people on board. In other words, both sides of the ship combined must offer capacity for at least 100 percent of all passengers. Alternative evacuation systems provide the exception that only 75 percent of all passengers onboard need to have a seat in a lifeboat. In such cases, sufficient lifeboats and life rafts to accommodate 125 percent of the total number of people are required. In my experience, most of the new passenger vessels are built in accordance with this regulation, because their design simply doesn't allow enough space to accommodate more lifeboats. As you can imagine, this rule is not very popular among us lifeboat manufacturers."
Apart from lifeboats – which other lifesaving equipment is required on a cruise ship?
"A larger cruise ship not only needs to be equipped with lifeboats, but also needs to feature at least one fast rescue boat on each side of the ship for man-over-board rescue missions. For shuttling passengers ashore, when no pier facilities are available or when the water is too shallow for ships to get closer to the shore, tender boats are used. Combined tender/lifeboats serve two purposes at the same time. They can transport passengers ashore and are also fully equipped to be used as a lifeboat in emergencies."
Does PALFINGER MARINE cover the entire lifesaving equipment portfolio?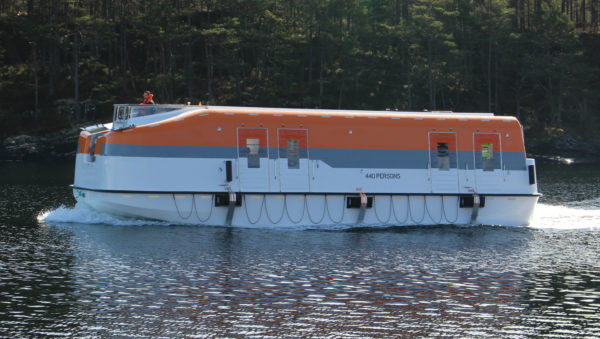 "Yes, we offer a full range of partially enclosed lifeboats and combined lifeboat/tender systems as well as fast rescue boats. All our boats can be delivered with customised davit systems." PALFINGER MARINE's partially enclosed lifeboats, referred to as MPC series, impress with excellent maneuverability, a spacious interior, and their user-friendliness. The MPC- 49 with a capacity of up to 450 persons is, for example, the largest lifeboat available on the market. "Generally speaking, we are currently selling more combined tender/lifeboats than lifeboats. Our CTL series can accommodate between 150 and 270 people when used as a lifeboat and 120 to 220 passengers when used as a tender boat. The CTL 38 with a capacity of 150 people is our bestseller", he explains.
Can you tell our readers more about the sales process in the cruise business?
"We get involved at an early stage of project development. For larger new-build projects, the design phase can take two to three years. We enter the picture as soon as the main vessel parameters like speed, capacity and hull are defined. Usually, our first point of contact is the design company. They reach out to us or – from time to time – we approach them. Finland has evolved to a competence centre in terms of cruise ship design. Foreship and Delta Marine, both headquartered in the country, are the design companies involved in most large new-build projects. At the time we provide initial information, including data sheets and technical drawings, we usually don't know too many details about the project. We neither know the name of the shipyard in charge, nor the name of the customers. Such projects are highly confidential. Once we receive a call from the shipyard, we know that our efforts have paid off. Finally, we enter a business relationship with the shipyard that has been contracted to build the cruise ship. For upgrade and refitting projects we are usually in direct contact with the shipyards without the involvement of design companies."
When talking all the time about lifesaving equipment … Can you tell us a little about the cranes on cruise ships?
Our marine cranes can be used for all kind of lifting operations on board. The compact design of our foldable knuckle boom cranes is a perfect fit for cruise ships with limited space.
Our PK 150002 M crane is, for instance, placed on top of the world's largest cruise ships such as Harmony of the Seas and Symphony of the Seas, where it is used for cargo handling from upper to lower decks. For the private super yacht Ulysses – a niche segment – we delivered a total of eight cranes. Two of the largest, custom-designed heavy duty foldable knuckle cranes (PFM 4500) are used for lifting the 21-metre tender on and off the foredeck. Additionally, two PK 90002 M extension booms mounted on each side of the yacht facilitate the launching of smaller vessels, while our PC2700 compact cranes are used for internal lifting purposes."
Cruise ships are truly impressive vessels. Where are these giants of the sea built?
"Most new cruise ships are built in European shipyards such as Meyer Turku Oy (Finland), Meyer Werft (Germany), MW Werften (Germany), Fincantieri (Italy), and STX France (France). In my opinion, these are the main players. We are on excellent working terms with all of them. I guess our longest business relationship is with STX France, formerly known as Chantiers de l'Atlantique. For the prestigious Queen Mary 2, which was built by STX, we delivered the complete LSE package. However, Asian yards have started moving into the cruise ship market and we are actively approaching them too."
Which upcoming project are you most excited about?
"There are some exciting projects on my desk and the entire team is working hard to realise them. Celebrity Edge, built by STX France, is a hot topic I am really passionate about. It is the latest breakthrough in modern luxury travel with an unbeatable design and technical innovation. For the 2,918-passenger ship, we will deliver eight tender/lifeboats, four lifeboats, two fast rescue boats, and fourteen davits. Except for the rescue boats, the entire equipment has been newly developed for this project. In total, there are three ships on order and we hope to realise two further options."