Sharing passion and knowledge about PALFINGER products is the goal at the Training Centre in Schiedam, Netherlands. Both the company's own service engineers and outside clients have the chance to get an insight into the latest technology, combined with up-to-date safety regulations. Training sessions can even be run at clients' own on-site locations across the globe for those looking to learn how to use their own equipment safely.
Training Manager, Michel Vollebregt, knows first-hand how important a facility like this is for the company.
"Since it was founded in 2004, our Training Centre has been leading the way in terms of what an LSA Training Centre should be!"
he said enthusiastically. We had a chat with him to find out more.
Can you tell us a little bit about your background at the company and the Training Centre itself?
I started working for the company in 2002 as a service engineer before working solely as a training manager. We have been developing and providing training for our service engineers and service partners in Schiedam since 2006. Our training facility is equipped with a wide selection of practical training aids, as we believe it is important for our participants to get hands-on experience.
What type of internal training is offered?
Our internal training programme includes LSA Basic Training, LSA Advanced Training and Multi-Brand Training. We are constantly training our service engineers so that they can deliver the best services to our customers.
LSA Basic Training is the first mandatory PALFINGER authorisation training and focuses on the working principle of the product. This course trains participants in everything they'll need to know to carry out their work using LSA equipment. LSA Advanced Training must be completed within three years of successful completion of the Basic Training so that the service engineer is re-certified. Since 2011, we have been providing our Multi-Brand Basic and Multi-Brand Advanced Training solely to our PALFINGER service engineers who have several years of experience.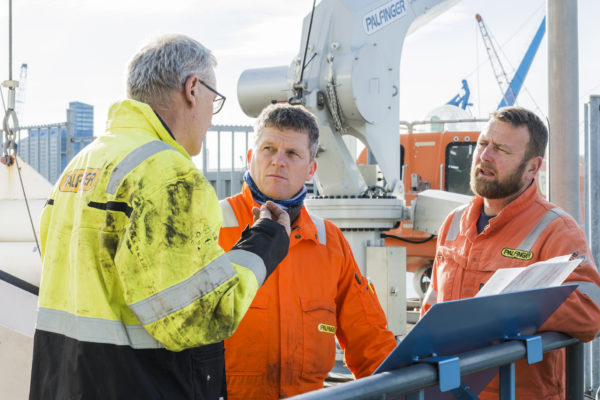 What training is offered to external customers?
We provide on-board operator and preventive maintenance training to external customers.
This training is usually conducted on-board our customer's vessel/platform, where their actual equipment can be used. The course includes both theoretical and practical elements. This results in the participant being able to safely use and maintain their LSA equipment, as well as being able to explain the risks of improper use.
What does it take to become a DNV-certified Training Centre?
The Maritime Training Providers standard outlines certification requirements for us as a Maritime Training Centre. The standard also helps us to manage our processes relating to quality, development, delivery and evaluation of learning programmes. This ensures that they are properly designed, contain clear objectives, are carried out by qualified instructors, and are evaluated and improved in line with market demands and experience.
What does a dedicated Training Centre bring to PALFINGER?
There are many advantages of having our own Training Centre. For starters, we can provide our own authorisation training to our service engineers. During training courses, service engineers from various PALFINGER Service Stations have the chance to meet up and network. This platform allows them to share their experiences and what they've learned about servicing products. We can also offer a quick response time if there is a need for extra product training. Finally, we can offer mock-ups from many different brands for in-house training.
Could you name the key characteristics of the Training Centre?
To describe the centre, I'd first of all say that we're competent: all training managers have been service engineers out in the field so we know what we're talking about. We're also approachable: interaction works very well; we listen to the people we train and let them share their experiences with us so we can learn, too, and improve our future training courses. Finally, we're innovative: we'd like to maintain a high standard and, most importantly, an understandable standard.
And finally, tell us, what's the best part of your job?
To be part of a small and great team is a real highlight for me. Every one of us has our own speciality. For us, having a sense of humour is very important. It breaks the ice during the courses and makes participants feel more comfortable. Of course, I also appreciate it when our participants give us positive feedback. But the training is never finished; there's always room for improvement.