Today, there are over 420 submarine cable-networks in service, stretching over 1.1 million kilometres around the world. The so-called cable-laying vessels are designed to lay underwater cable lines for telecommunication, electric power transmission, or other purposes. Cable-laying vessels perform a wide range of tasks. These include the installation of cables for offshore wind farms, the installation of fibre optic cables for telecommunication, and cable installations for the oil and gas industry.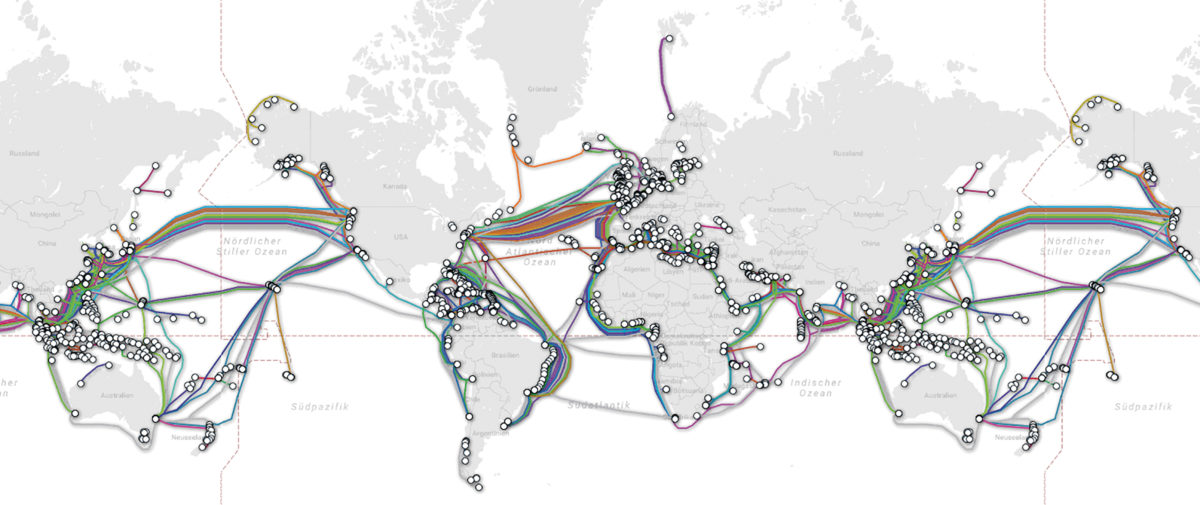 Did you know?
A common misconception is that most of our information is transmitted via satellites. In fact, approximately 99 per cent of our data is transmitted by submarine fibre optic cables. Submarine communication cables work much faster than satellites.
Highly developed optical fibres transmit information almost at the speed of light. Connecting the world via submarine cables has a long tradition. Did you know that the installation of the first transatlantic telegraph cable began as early as 1854? This cable connected Newfoundland and Ireland.
"CABLE QUEEN" – NKT VICTORIA
NKT Victoria is one of the world's most advanced and fuel efficient cable-laying vessels. It is equipped with all features necessary to successfully perform even the most advanced installation procedures. Adding this state-of-the-art vessel to its fleet enabled NKT to offer complete cable solutions – from design and manufacturing to installation and service. It combines the best Norwegian ship design and shipbuilding. The 140 metre long and 30 metre wide ship, based on a 306 CLV design by Salt Ship Design, was built at the Kleven shipyard and delivered to NKT in April 2017. Right after, NKT Victoria headed to Scotland for its first job, during which it was used to lay 113 kilometres of submarine cable from Caithness to Moray. Currently, it is busy installing the export cable that will connect the 600 MW Krieger's Flak offshore wind farm to the Danish national grid.
Equipped with a high-end dynamic positioning system (DP3) to automatically maintain the vessel's position and heading, it lays high-voltage offshore cables with utmost precision. The two turntable carousels (one on deck and one below deck) have a combined capacity of 9,000 tons of cable. Generally speaking, the higher the cable capacity of a vessel, the more cost-efficient it is for the customer. Compared to other cable-laying vessels available on the market, NKT Victoria consumes less fuel and CO2 thanks to a power-from-shore solution in combination with onboard energy storage systems. The power-from-shore connection can be maintained while loading the cable onto the vessel – a unique advantage which results in a more environmental-friendly operation.
COMPLETE WINCH PACKAGE TAILOR-MADE FOR CABLE-LAYING VESSEL
For cable-layer NKT Victoria, the winner of the prestigious "Ship of the Year Award 2017", PALFINGER MARINE supplied a complete winch package, consisting of a sixpoint mooring system, anchor and mooring winches, and cable-laying winches. The complete winch package is based on state-of-the-art electrical, frequency controlled drives. With a total equipment weight of approximately 258 tons, it is certainly not an exaggeration to speak of a major delivery.
ALL OUR EQUIPMENT WAS TAILOR-MADE IN CLOSE COLLABORATION WITH THE DESIGN COMPANY SALT SHIP DESIGN, KLEVEN SHIPYARD, AND THE OWNER NKT.
We started working on the project in March 2015, six months later we were officially given the contract, and another 14 months later we delivered all the equipment on time", says Sverre Mowinckel-Nilsen, Sales Director – Winches and Handling Equipment.
Our six-point mooring system, with four winches below and two winches on deck, is designed to maintain the stability of the vessel during operation. Having a six-point mooring system reduces the need to use a positioning system and, as a consequence, saves fuel costs. Each winch has a pulling capacity of 60 tons at first layer and a holding capacity of 90 tons at first layer and can store 900 metres of Ø 40 millimetre steel wire.
Abandon and recovery (A&R) winches are designed to automatically maintain a constant tension on the cable during cable-laying operations. Each winch of the three winches delivered to NKT Victoria has a pulling capacity of 45 tons at top layer and a drum capacity of 800 metres for Ø 46 millimetre steel wire ropes. They can be operated both locally and remotely.
In addition, PALFINGER MARINE supplied three initiation winches and three tugger winches with a pulling capacity of 6.4 tons at first layer. All six winches are equipped with a spooling device for controlled spooling and have a drum capacity of 160 metres of Ø 19 millimetre steel wire. During the project we were also contracted to deliver an overboarding roller guide for use during cable-laying operations.
For NKT Victoria's anchor and mooring operations, PALFINGER MARINE also supplied a complete winch package consisting of five winches in total. While anchoring takes place at open seas, mooring happens in the harbour.
BUT THAT'S NOT ALL…
Apart from the extensive winch package, PALFINGER MARINE also delivered a custom-designed A-frame for onboard trenching operations, two electrically driven foldable knuckle boom cranes, two totally enclosed lifeboats with accompanying davits, and a rescue boat davit. "This major delivery truly showcases PALFINGER MARINE as a competitive one-stop shop for high-quality deck equipment for the maritime industry. Having a single supplier of complete packages with winches, cranes, lifesaving, and other offshore equipment saves customers time and money, and reduces complexity in their procurement processes" says Bernhard Peintner, Executive Vice President – Operations.
Latest Cable-Layer Contract: https://www.palfingermarinestories.com/another-cable-layer-contract/