An increasing demand for renewable energy inevitably calls for more – and larger – renewable energy sources. Offshore wind farms will play a vital role in the energy mix of the future. We met up with Anders Galsgaard Husted, Product Specialist Davit Crane at Siemens Gamesa Offshore, to talk about innovation, market development, and how supply partners like PALFINGER actively contribute to a brighter future.
Siemens Gamesa strives to be the global leader in the renewable energy industry. What is your role within the company and how do you contribute to achieving this goal based on your responsibilities?


My role at Siemens Gamesa Offshore is officially described as Product Specialist Davit Cranes. I have been working in the offshore wind turbine business for 20 years now, and my everyday duties include ensuring that all davit crane suppliers we use comply with the latest davit crane standard defined as EN 13852-3, as well as making sure that all customers follow the accompanying Siemens Gamesa guidelines. The mentioned standard is the first to address light offshore cranes that are primarily deployed on unmanned platforms, defining the structural and security features such a davit crane must have.
I also use my knowledge and skills from my former technical and HSE (Health, Safety & Environment) training role at Siemens Gamesa Renewable Energy to ensure that the company is procuring the best davit cranes for each individual project, and to maintain high-quality support for customers.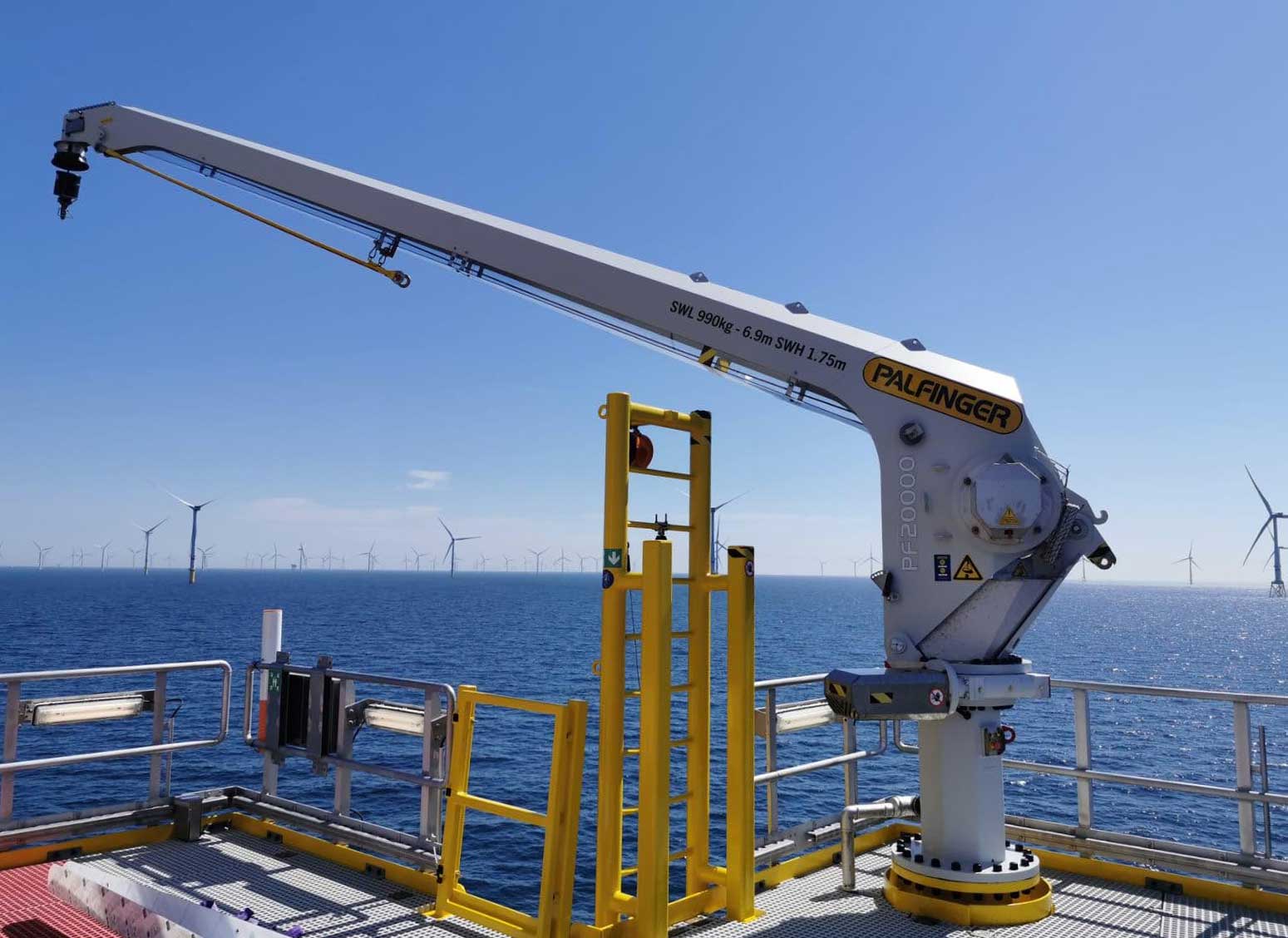 Throughout their longstanding partnership, PALFINGER and Siemens Gamesa Renewable Energy had worked on several joint projects, including, for example, Formosa OWF, Fécamp OWF, Courseulle sur Mer OWF, or Borkum Riffgrund, as shown in this photograph.
The offshore wind market is growing rapidly in line with the demand for renewable energy. What does it take for a company to claim technology leadership? And what are your expectations for the future of offshore wind farms in terms of technology, capacity, and the market in general?


I expect that offshore turbines will become larger in terms of size and capacity, as will the market in general incidentally. I also believe that we need to rethink how we move, build, and place heavy offshore wind turbines. I envision large offshore islands, on which energy and fuel could potentially be produced simultaneously. Given the high rate of technological development at our disposal, I think we should never stop looking for ways to work smarter, thus reducing weight and price of wind turbines.
Taking a deeper look into the "inner workings" of an offshore wind farm, what are the major demands in transition piece logistics? And to what extent do they affect requirements towards equipment suppliers like PALFINGER?


Given the volume of future projects, all equipment suppliers will need to focus on increased flexibility in terms of commission, installation, and training. Due to larger jackets and monopiles, they will also have to prepare for delivering products offering a longer outreach than the maximum of 7 meters we demand now. The increase in turbine size I mentioned earlier goes hand in hand with an increased distance between offshore wind platform and service crane. This is something that will need to be addressed, while still keeping the cranes sufficiently simple. Again, weight is a key factor alongside operability and cost efficiency.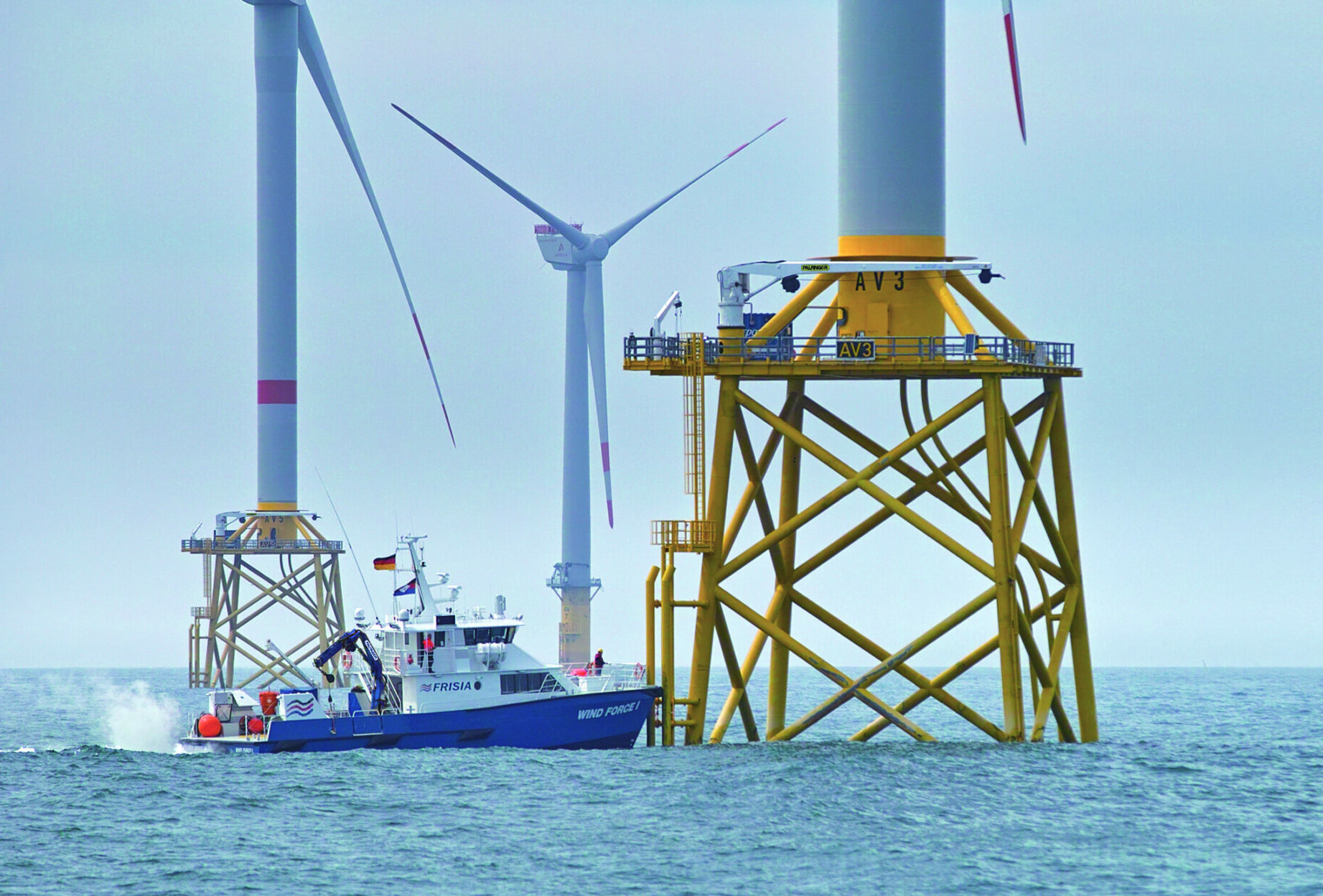 PALFINGER offers a wide range of products for the offshore wind industry, all of those meeting the necessary requirements. In fact, we are about to launch a new PF crane range that complies with the latest European standard EN13852-3 for light offshore cranes – stay tuned.
What technological advancements have you witnessed over the years in the offshore wind industry in general and in your field of expertise in particular? What can we expect in terms of design improvements, performance enhancements, cost reductions, …?


The most groundbreaking technological advancement I had the privilege to witness was definitely the introduction of direct drive technology by Siemens Gamesa. The development met market needs spot on. It reduced the number of wear-prone components in offshore turbines, thus facilitating maintenance and increasing efficiency through direct energy transition. The focus on ensuring maximum rotation capacity for the hub when the turbine is in idle mode resulted in reduced stress on the bearings and rotating parts. Smaller dimensions and less weight also led to lower transport and installation costs.
Another major milestone for the offshore wind market in general, and Siemens Gamesa specifically, is the news that we are now capable of reusing the fiber components of old wind turbine blades. The pioneering technology that allows us to separate and recycle blade materials in new applications is a major step towards achieving 100% recyclability of offshore wind turbines.
What are the most important milestone projects you contributed to throughout your career so far? And which projects are you looking forward to?


My first project was Horns Rev 1, the largest offshore wind project in Denmark back in 2001 when I was still at Vestas. It kind of marked the beginning of Denmark's offshore turbine history. It became a reference point in terms of "lessons learned" for other turbine companies that followed. Regarding the future, I am really looking forward to the "Thor Project" in Denmark. The offshore wind farm, with a capacity of up to 1,000MW, will be built close to my hometown.
Exciting times lie ahead for everyone involved in the offshore wind farm industry. PALFINGER looks forward to shaping this vital, renewable energy segment by continuing to provide cutting-edge marine solutions developed in close partnership with pioneering industry leaders such as Siemens Gamesa.
Header image: © Fred. Olsen Windcarrier