The Europort trade show in Rotterdam (NL), which took place from the 7th to 10th of November this year, is the kind of event you simply cannot miss as a leading global player in the marine technology industry. The platform proactively addresses future challenges while offering an opportunity to present and exchange innovations and knowledge. PALFINGER MARINE paid tribute to this status by choosing Europort as the stage for the presentation of the redesigned PK 6.501 M foldable knuckle boom crane.
Europort: an event one does not miss
Europort, a landmark event in the global port city of Rotterdam, the Netherlands, is one of the leading international maritime trade shows. The platform for innovative technology and complex shipbuilding solutions attracts an average of 25,000 professional visitors and 1,000 exhibitors. This year's event once again focused on key industry challenges: energy transition, digitization, and human capital. How do we meet the ambitious emission goals for an industry that moves 90% of global trade? How can digitization be harnessed to develop products that operate more efficiently and safely? How can companies realize the full potential of highly skilled staff capable of disrupting the status quo?
These are question that PALFINGER MARINE attempts to answer anew every day in line with Europort's motto: Together. Today. Tomorrow.
PALFINGER MARINE showcases latest PK-series redesign
PALFINGER MARINE constantly works on making its leading lifting solutions more efficient and safer, which plays into all three key topics of this year's Europort. The latest lifting solution suite to undergo a major redesign and upgrade process is our tried and tested flodable knuckle boom (PK)-Series. The journey began last year and, after two prior successful redesigns, culminated in the development of an enhanced PK 6.501 M foldable knuckle boom crane. This particular model is a reliable option for crew transfer vessels, aquaculture operations, and more. It goes without saying that we were eager to present our latest creation to customers and partners in front of our impressive full-scale crane at Europort.
The upgradet PK 6.501 M: a major stride forward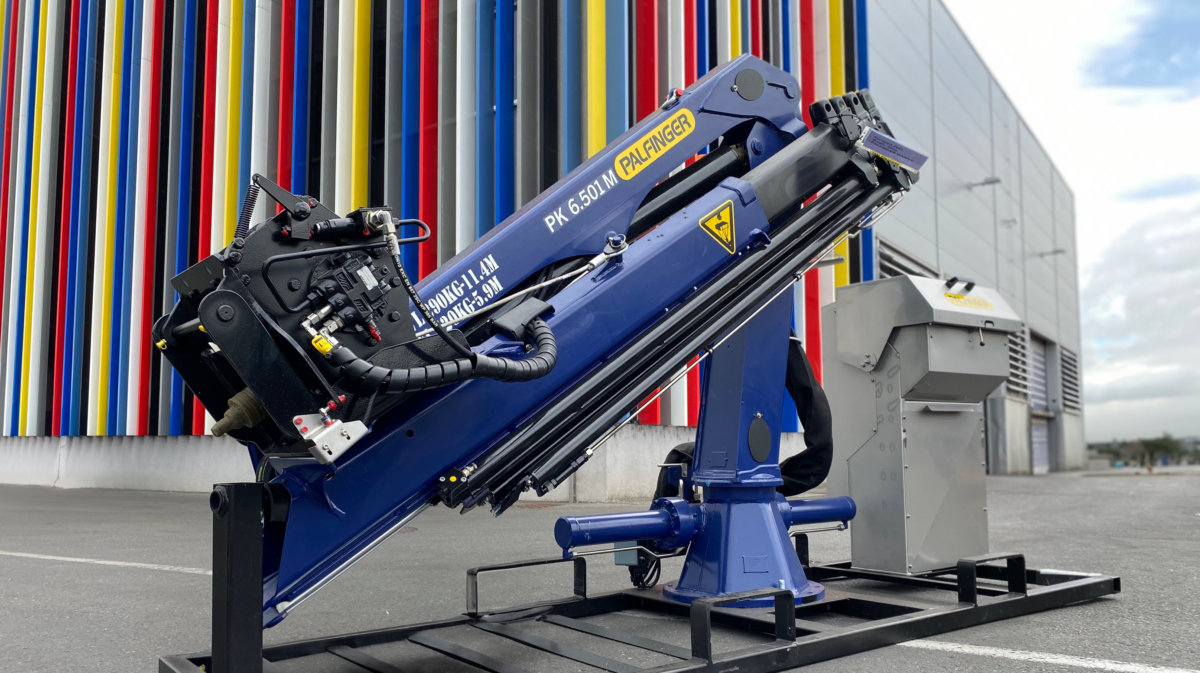 The upgraded PK 6.501 M, which complies with the latest EN 12999 standards, boasts several improvements that constitute a great stride forward. Its single power link system allows constant lifting movement regardless of the boom position, increasing overall lifting capacity. The clou is that the redesigned crane can lift its maximum load in all positions at stable speed. It is also equipped with our IP67-rated PALTRONIC 40 control system that guarantees smooth operation in rough seas and weather conditions. The fact that the system's controller is seamlessly integrated into the crane operator terminal saves space and facilitates installation.
Resounding success at Europort in Rotterdam
Heinrich Schröcker, Sales Director Europe at PALFINGER MARINE, made the trip to Rotterdam and drew a highly positive picture of our presence on the global trade show stage.
This is an event that attracts all major European maritime players, so it is pleasing to notice that our crane solutions received particular interest from visitors.

Heinrich Schröcker, Sales Director Europe
"We enjoyed some quality conversations of which many resulted in promising leads for crane retrofits, replacements, and purchases," Heinrich says. It certainly helped that the full-scale PK 6.501 M proved to be a major talking point across the whole duration of the event. "The visitors were particularly impressed with our clean designs, excellent product quality, and high usability," Heinrich beams, and adds: "The excellent feedback underlines how important it is to show presence at such events. Rotterdam was definitely worth the trip."
PALFINGER MARINE did not earn its reputation as an innovation pioneer by standing still. This latest stride is therefore merely one step of many on our never-ending journey towards product excellence. Further updates to the PK-Series and PALTRONIC 40 are already in the development phase and will, in some cases, be rolled out as early as next year. We will, of course, keep you informed.