One quite delicate project in PALFINGER's history was equipping the Ulysses, one of the world's largest dedicated luxury explorer yachts, with our marine cranes.
In 2016, we announced that we had supplied our first superyacht, the 107-metre-long Ulysses, with  eight PALFINGER cranes. The prestigious project continued with providing the second, 116-metre long megayacht with an additional set of eight cranes. Just like the first one, the second yacht was built at the Kleven shipyard in Norway. It was designed to carry 66 people, providing them with high-class features such as a helicopter landing pad, a helicopter hangar and a swimming pool.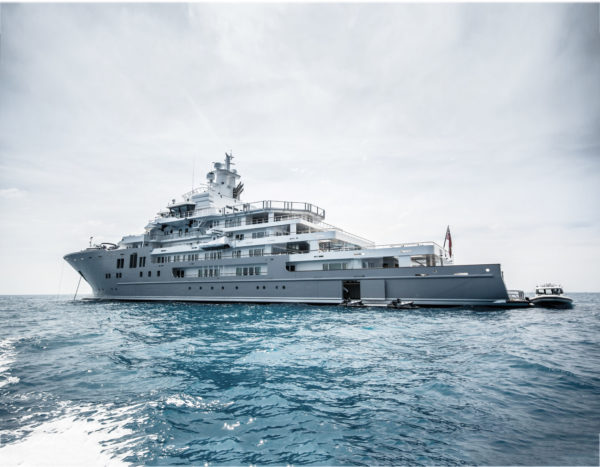 TAILOR-MADE FOR THE SECOND GENERATION
When equipping a yacht, the biggest venture is always dealing with space restrictions and special requirements. Our sales, design, service and project management experts at PALFINGER rose to these challenges and delivered the optimal solution according to these demands. The unique 21-metre day-cruising tender requires two of our biggest heavy-duty foldable knuckle cranes (PFM 4500) with a capacity of up to 25 tonnes each. Instead of the former PK 90002 M extension booms installed on the first yacht, this time four PK 150002 M were mounted in order to take care of launching smaller tender boats.
SERVICE IN A NEXT-LEVEL LEAGUE
Servicing a world class superyacht isn't exactly a walk in the park, either. "It rather feels like you're a bull in a china shop", explains Wolfgang Knauseder, one of our experienced PALFINGER Service Engineers. "Unlike working on oil rigs, or fishing boats, installing a crane on a glossy yacht is a completely different story. You're only allowed to enter in protective shoes and have to take good care of the wooden floors, and leaving any scratches or oil spills behind is of course out of the question. Even the cranes need to be handed over with a shiny high-polish finish after installation."
This operation takes three times as long as a normal service job. Wolfgang spent over a week installing the cranes supporting our long-term Norwegian partner Bergen Hydraulic. "These cranes weren't designed for lifting crab fishing pots. We had to keep in mind that they'd carry high value toys and tender boats. The rules are much stricter here; it's a totally different league!"
And the journey continues. Given the success of these latest yacht-related projects, we are proud to disclose that we are already working hard on similar orders. Watch this space! We'll keep you posted…