Few industries are more complex in terms of service than the offshore wind segment. As a customer-centric industry leader, PALFINGER MARINE focuses on proactive prevention to reduce such complexities. In this context, we lifted our training in answer to the accident prevention regulations (APR; in German: "Unfallverhütungsvorschrift", or UVV in short) to the next level. This is how PALFINGER MARINE teaches service technicians how to ensure that all cranes and lifting equipment involved always meet the industry's stringent safety requirements.
Accident Prevention Beats Hindsight in the Offshore Wind Industry
Even fail-safe equipment needs to be rigorously tested on a regular basis, especially in the harsh weather conditions offshore, to ensure that it remains fully operational for many years. After all, proactive prevention always beats costly hindsight.
The improved APR training comes in answer to the dynamism of the offshore wind industry resulting in ever-changing, stricter regulations. The new course, which allows us to be the first company to provide the highest possible certification in this field, was developed in cooperation with consulting firm Prager. Our trusted partner, who has been active in the offshore business for many years and knows all the ins-and-outs of the industry, provided in-depth training know-how and legal expertise. It is always reassuring to have the backing of such an authority on the subject.
What makes the new four-day training unique, is that it reserves one day for crane operator certification, which is not a given among service technicians. The course is open to all PALFINGER MARINE service engineers with basic and advanced training credentials, as well as external talent with equivalent training. It combines all theoretical and legal aspects while still covering practical procedures. The APR certificate remains valid for two years before a refresher course is required.
Defining a Benchmark for the Offshore Wind Industry
So, what exactly does this new, updated APR training entail? The participants are introduced to the entire crane inspection procedure, including documentation, service history, and general setup. The latter encompasses aspects such as certification stickers, lifting capacity tables, and extensive hardware checks. 
The crane on a wind turbine is an essential element in the chain of operation. If the attached crane is deemed non-functional, then the turbine itself is not cleared for operation either.

Martin Lange, Regional Technical Manager Cranes at PALFINGER MARINE
The benefits of PALFINGER MARINE's inspection training for employees and external partners are evident. As an industry pioneer, we are capable of offering state-of-the-art training and examination methods. In addition, the new course is based on German standards, which are the strictest within the offshore wind industry. The exacting nature of these standards is known worldwide and therefore welcomed by partners and customers around the globe.
Martin elaborates: "What one needs to understand, is that our industry is incredibly complex. Service assignments out at sea are significantly more expensive than on land, not least due to the need for additional vessels, increased documentation requirements, and ever more specific customer demands." Martin, who counts service coordination to his technical responsibilities, is therefore especially proud of the new in-house training introduced in November 2022.
APR Inspection Certification for a Wide Range of Offshore Wind Equipment
Another vital aspect is that all service technicians that complete our training are allowed to conduct APR inspections on a wide range of cranes and hoists, even those manufactured by other brands. PALFINGER MARINE is immensely proud to be the only company to offer such training as part of an all-in-one package including spare parts and regular maintenance.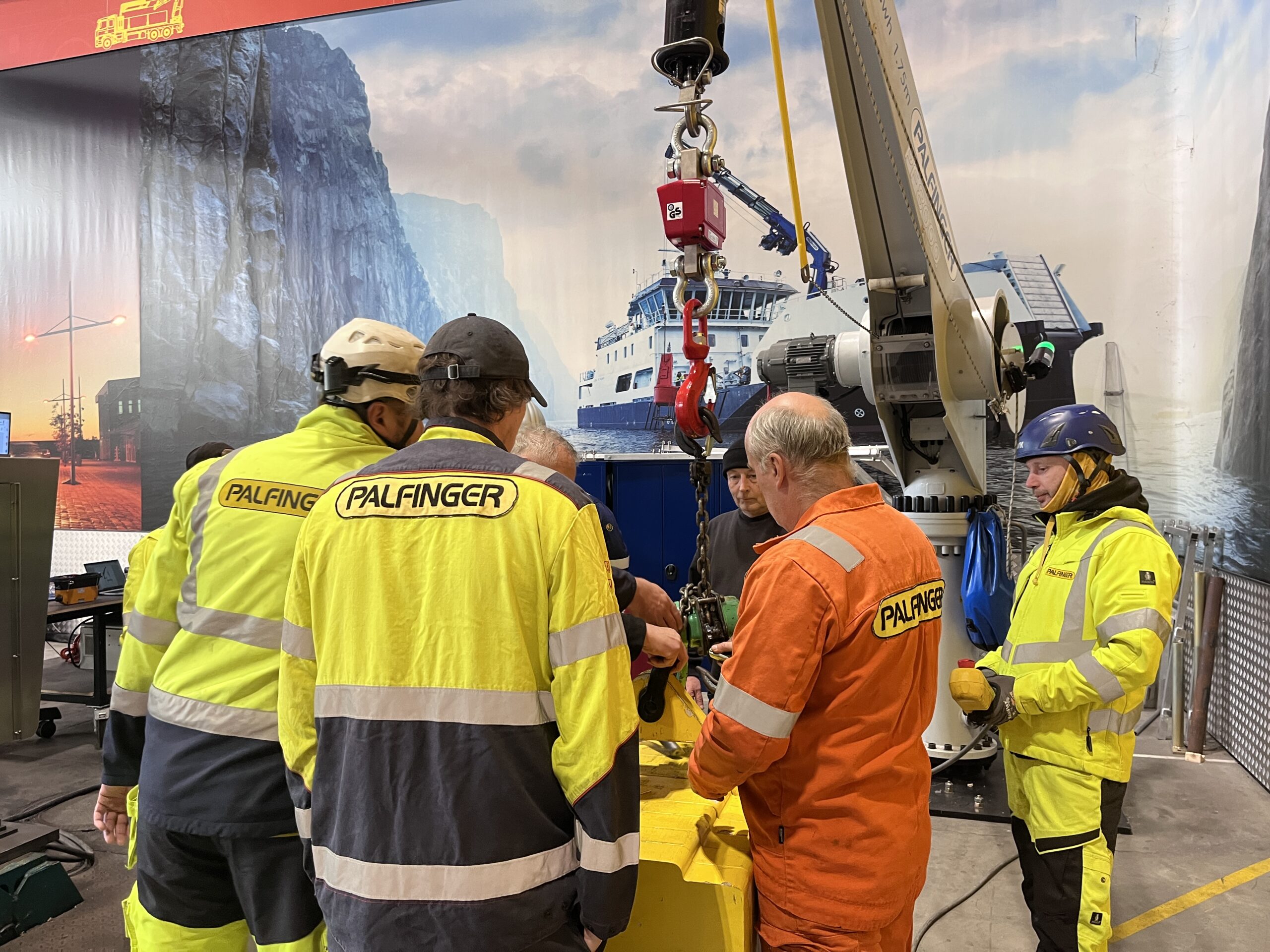 The service technicians attending the PALFINGER MARINE APR course are allowed to inspect overhead cranes, chain hoists, pillar cranes, wall-mounted slewing cranes, fixed workshop cranes, rail trolleys, and fixed loading cranes.
Once the trainees have successfully taken the exam, they are endowed with the title "Qualified Personnel for the Inspection of Cranes and Hoists". Every trained and certified engineer can prove their credentials with their individual inspection number on a designated seal.
The initial feedback from training participants has been excellent. "Given that the service season in the industry runs from March to October, winter is the ideal time for APR training. So, this is when we gather all participants at our training center located in Salzburg, Austria, to solidify our technical skills together," Martin adds. "The technicians scheduled to attend the course this year are already raring to go. We all can't wait to kick off the 2023 season."
As a company that strives for perfection in all aspects, PALFINGER MARINE considers it natural to extend its reputation for perfection to the realms of training and service. Safety is – and always will be – a core value, which is why we are so proud to contribute to the security of the offshore wind industry, even beyond manufacturer brands. Let's stay safe together!
Curious about more stories around PALFINGER MARINE's training courses? Learn more about crane operator training for offshore wind farms here.